Skip Bags To Go is a locally owned waste disposal service operating around Belmont and other suburbs surrounding the City of Lake Macquarie.
We provide topnotch professional waste collection solutions that will make any cleanup job convenient, simple, and easy on the budget. Our friendly and reliable team is here to make cleaning up your residential and commercial space as stress-free as possible. We give our guarantee that you will get the highest customer satisfaction with each and every bag delivery and waste pickup.
Whether you are renovating your home, moving out, spring cleaning, or just doing an annual yard cleanup, skip bags are perfect for the job.
Our bags are light yet durable, allowing you to conveniently place them within your own garden while avoiding the costs associated with skip bin rentals.
The skip bags we deliver to you are made of the best quality materials and are manufactured with the highest standards in the industry in mind.
We make cleanups simple, flexible, and economical, so order your Skip Bags To Go bag today and experience a waste disposal service that will exceed all your expectations!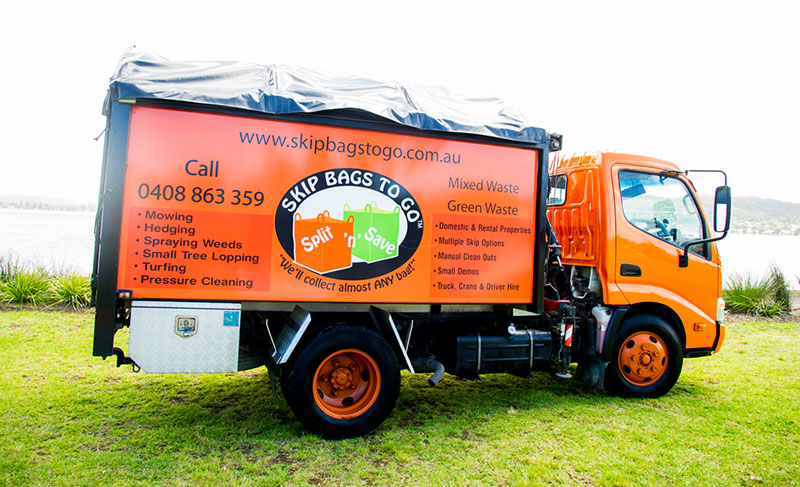 Flexible Waste Disposal Solution in Belmont
Skip Bags To Go takes care of your rubbish professionally with our courteous and highly-trained staff and truck drivers. All of our employees can be counted on to be communicative and helpful, and we will go out of our way to give our customers in Belmont and Lake Macquarie the best service you can get.
We know very well the challenges that you face when you have a project or event that generates large amounts of waste. If you are you having a renovation project, cleaning out your places of residence or business, or holding an event or celebrating an occasion, you are going to require a reliable waste management solution that fits your needs.
Our skip bag system is just the right solution for your rubbish removal demands. Ordering your bag and arranging a pickup is super simple, and the first step is to call us at 0408 863 359 or visit our shop to buy a bag.
The price of the bag includes the bag itself, delivery, pickup, and tip fees, and once you have your bag, you can start filling it up with your waste. Please keep in mind that the following wastes are prohibited: asbestos and fibro, chemicals like paints, solvents, and oil, and contaminated waste. Check out our prohibited waste page for a complete list of prohibited waste.
If you already have a bag that you bought from a different company, you should not worry, since as long as the bag fulfils the following conditions, we will collect it:
It must have handles that will let us safely pick it up
It should not contain prohibited waste material
The pickup weight should not exceed 850 kg
If the bag has different dimensions, its pickup price would be determined based on our bag with the closest dimensions
The pickup price could also vary depending on the type and weight of the content
Split 'n' Save with Skip Bags to Go
You can make your wallet–and Mother Earth–happy if you separate your waste with our "Split 'n' Save" method that makes waste disposal cheaper and more environment-friendly.
All you need to do is separate your waste items into the following three categories to make it easier to recycle them:
Bricks, concrete, rocks, and tiles only
Green waste only – Organic waste such as grass clippings and leaves and branches of trees and plants; soils and rocks are not included.
Mixed waste – General household waste such as furniture, appliances, papers and documents, carpet, clothes, toys, computers, and green waste (additional charges for fridges, tyres and mattresses apply).
Your Convenient Alternative to Skip Bins
Our waste disposal system is a convenient and money-saving alternative to skip bins. With our skip bags, you won't have to pay for council fees since, unlike skip bins, bags are more easily sited within your own property.
You get to keep your bags for up to three months, a huge advantage over bins that are typically rented by the week.
So for your waste collection needs in Belmont, Skip Bags To Go is the way to go. Call us today to book your bag and pickup!