Skip Bags To Go offers a one-stop solution for your rubbish removal needs in Belmont North and other suburbs around Lake Macquarie.
Our skip bag system provides you with a simple yet effective way to dispose of your household and commercial waste. The products and services we deliver to our customers have been designed with the highest industry standards to help you save on money, time, and energy.
We guarantee that every time you buy a Skip Bags To Go bag, you get a product of the very best quality and the top-grade services from our highly-trained staff and professional drivers.
It is our aim to make disposal of unwanted junk as painless and cost-effective as possible for each of our customers.
Get your Skip Bags To Go bag today for the easiest and cheapest solution to getting rid of your rubbish!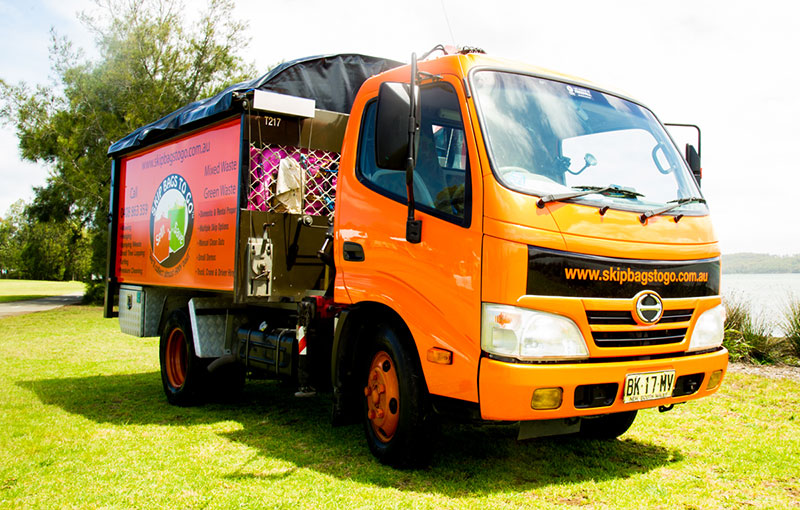 Cost-Effective Waste Collection in Belmont North
Are you undertaking a renovation project, moving out of a home unit, cleaning out your garden and yard, or organising an event? We provide a waste collection solution in Belmont North that can be flexible enough to fit your space, time, and budget allowance.
Just purchase one of our skip bags from our online shop or through phone 0408 863 359, and you will get your bag delivered at no additional cost. The price of each skip bag is already inclusive of the cost of the bag delivery and pickup, as well as the tip fees. Our bags come flat-packed, are easily stored while still unused, and are available in 3 convenient sizes: small (1m3), medium (2m3), and large (2m3).
Once you have your bag, begin loading it with rubbish, taking note of the types of waste that are allowed and those which are classified as prohibited waste and therefore cannot be collected. The following are the types of waste you can put in your skip bags:
Brick and concrete rubble, tiles, and rock waste (must not include soil) – due to weight considerations, bags for this type of waste are available only in the small size (1m3)
Green waste – biodegradable waste such as grass clippings, flower cuttings, hedge trimmings, fallen leaves, branches, and other organic waste materials
Mixed waste – household and commercial waste including green waste, furniture, electrical appliances, computer peripherals, clothing, kids toys, bedding, and more
Please keep in mind that there are materials and items that we do not collect, such as asbestos and chemicals, which are listed as prohibited waste (click here to view the full list of prohibited waste materials).
Keep your skip bags for up to 3 months, which should be ample time to fill up the bag, but if you need a longer time, then just let us know and we can accommodate your request for a time extension. When the bag is full and ready, schedule a pickup via phone or through our website and we will collect the full bags at the appointed date.
Why Use Skip Bags To Go Bags?
Choosing our skip bags means you get value-added benefits and advantages, which include the following:
Our bags are highly durable yet flexible and will withstand almost anything that can fit in them
Unlike metal skip bins, our skip bags are very lightweight and can be conveniently placed closer to your working area
This also means you eliminate the need to pay for council fees which are required if you are going to use public property
Bags are delivered in a flat pack so they can be stowed away easily if you do not need them yet
You can take your time filling your bag, relieving you of the time constraints otherwise imposed by bin hire companies
Waste Solution You Can Depend On
When it comes to waste removal in Belmont North, Skip Bags To Go provides you with a cost-effective solution that is dependable and convenient. You can always count on us to give all of our customers only the best products and services that money can buy.
Call us today to book your Skip Bags To Go bag and pickup, and talk to our friendly staff to find out more about how we can help you.