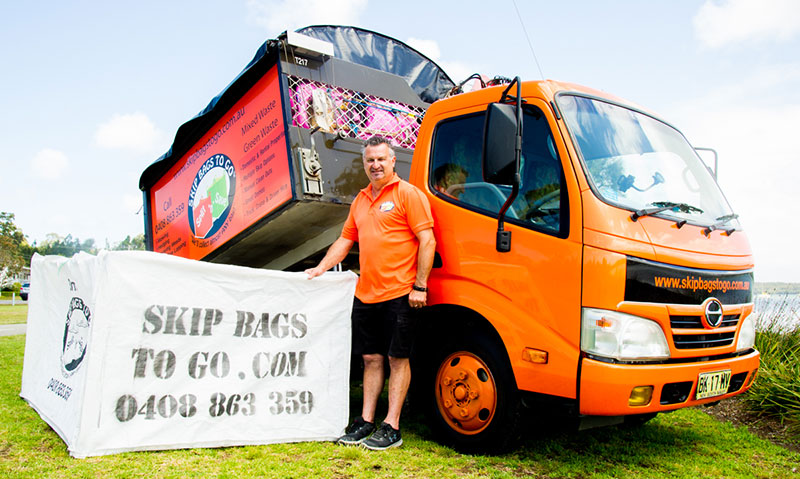 Skip Bags To Go provides an easy and affordable residential and commercial bagged waste disposal solution throughout the Lake Macquarie and Newcastle areas.
Our system is designed to be a simple and flexible alternative to skip bins, and is ideal for cleanups of all types of rubbish. We collect various kinds of wastes, from bricks/concrete/rocks, green waste (yard clippings, leaves and branches), to mixed waste (household items like clothes and furniture).
Just buy a skip bag from us and we will deliver the bag to you for FREE! You can then fill the skip bag with waste, and once it is full, call us to arrange the pickup. We can even collect bags that were purchased from another company, as long as they are up to our collection standards.
All of our employees, licence holders, and partners are proud to provide the utmost satisfaction to all of our customers. Our team of professionals is guaranteed to provide with you only the best waste collection service that you can get.
Call us now at 0408 863 359 to learn more about how we can be of assistance to you.
Skip Bags To Go City of Lake Macquarie
Let Skip Bags To Go take care of your waste collection with our versatile and cost-effective alternative to skip bins.
The Skip Bags To Go system eliminates the need to pay bin rental fees, which usually depend on the number of weeks you keep the bin. Moreover, in many cases, you do not even have to apply and pay for council permit fees, since bags can be easily placed right inside your own property.
Our skip bag delivery and pickup services are perfect for all your household and commercial cleanup and waste removal needs:
General household cleanup
Moving houses
Decluttering
Spring cleaning
Bathroom, kitchen, and other house renovation projects
Landscaping
Garden cleanup
Cleaning out the garage
Waste management at weddings, birthdays, and other organised events
Deceased estate
We understand our customers' most pressing needs when it comes to rubbish removal. Therefore, our professional staff and dependable drivers have undergone rigorous training to ensure that each of our customers gets nothing but friendly, courteous, and efficient service.
We Deliver and Pick Up Skip Bags Around Lake Macquarie
Skip Bags To Go provides convenient and reliable waste collection to all our customers throughout the City of Lake Macquarie and nearby areas in Newcastle. Below is a list of all the suburbs to which we cater:
Adamstown Heights
Arcadia Vale
Argenton
Awaba
Balcolyn
Balmoral
Barnsley
Belmont
Belmont North
Belmont South
Bennetts Green
Blackalls Park
Blacksmiths
Bolton Point
Bonnells Bay
Boolaroo
Booragul
Brightwaters
Buttaba
Cameron Park
Cams Wharf
Cardiff
Cardiff Heights
Cardiff South
Carey Bay
Catherine Hill Bay
Caves Beach
Charlestown
Coal Point
Cooranbong
Croudace Bay
Dora Creek
Dudley
Edgeworth
Eleebana
Eraring
Fassifern
Fennell Bay
Fishing Point
Floraville
Freemans Waterhole
Garden Suburb
Gateshead
Glendale
Highfields
Hillsborough
Holmesville
Jewells
Kahibah
Kilaben Bay
Killingworth
Kotara South
Lakelands
Little Pelican
Macquarie Hills
Mandalong
Marks Point
Marmong Point
Martinsville
Mirrabooka
Morisset
Morisset Park
Mount Hutton
Myuna Bay
New Lambton Heights
Nords Wharf
Pelican
Pinny Beach
Rankin Park
Rathmines
Redhead
Ryhope
Seahampton
Silverwater
Speers Point
Sunshine
Swansea
Swansea Heads
Teralba
Tingira Heights
Toronto
Valentine
Wakefield
Wangi Wangi
Warners Bay
West Wallsend
Whitebridge
Windale
Windermere Park
Woodrising
Wyee
Wyee Point
Yarrawonga Park
The corporate values we stand by have guided our business in delivering only the best products and services to each and every one of our valued customers.
We know how your renovation and cleanup projects can sap out your energy and can often be quite a headache. So we have made it our personal mission to make your rubbish removal hassle-free and super easy on the budget. Our skip bag ordering and pickup booking are a breeze for everybody, whether you prefer doing it over the phone or via our online store.
Easy and Flexible Skip Bin Alternative
There are many reasons why Skip Bags To Go is the better option compared to renting a skip bin.
First and foremost are the costs involved; with Skip Bags To Go, you buy the skip bags, very competitively priced products, instead of renting them. This makes pricing very straightforward, as opposed to skip bin rental prices that depend on the length of time you rent the bin.
On top of this would be the council permit fees you have to pay if you do not have ample room to position the bin and have to place it on public space. In comparison, our bags can usually easily fit in gardens, thereby getting rid of unwanted council fees and saving you money.
The way our waste disposal system works is summarised in three easy steps:
Buy a bag. You may purchase one of our bags by calling us on 0408 863 359 or by booking online. Our strong and durable skip bags come in three sizes: small (1 cubic metre), medium (2 cubic metres), and large (3 cubic metres). Each purchase is inclusive of the bag, delivery, pickup, and tip fees. We also collect bags purchased from other companies, and we can accommodate requests for multiple bags as well. Please note that all bags are single-use only and can be kept up to three months (please advise us in case you need a time extension).
Fill the bag with your rubbish. We classify waste into three types – Brick/concrete/rocks, green waste, and mixed waste. The pickup price is different for each type, so you can save money by doing what we call "Split 'n' Save". This means that you will separate your waste inside the bag so we can recycle its contents. We do not collect prohibited waste (click here for a full list).
Book a pickup. Once your bag is full, call us on 0408 863 359 to arrange a pickup. And your waste will then be collected within four days of your booking.
Skip Bags To Go Waste Disposal Solution
Our waste collection system is an easy, flexible, and budget-friendly way to dispose of household and commercial rubbish. It is the perfect solution for cleanups, decluttering, renovations, events, and any situations that require bulk waste management.
Our professional and friendly staff are here to help you get rid of your rubbish, so call us today and let us take care of your waste collection!